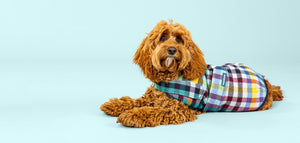 AN AUSTRALIAN MADE DOG COLLECTION WITH A FOCUS ON DESIGN, QUALITY AND SUSTAINABILITY.
Thoroughly Houndsome
Houndsome was born from the belief that our best friends deserve the finer things in life. Our range of thoughtfully designed and crafted pieces is made here in Australia by a collective of local artisans and makers. You won't find any mass-produced imports. Houndsome is all about distinctive pieces for distinctive dogs.

We also understand dog owners. We know you care about the planet. That's why our beautiful and durable products are made to last.

You can read more about the provenance of our Australian-made products and our commitment to pets, people and planet here.